Inspired Collection
Midnight Medicine Wheel
Midnight Medicine Wheel is a visual representation of the interconnections between all of the Medicine Wheel teachings. Medicine Wheels in colours of the four quadrants are linked by columns of the same colours, luminescent against a black background. Midnight Medicine Wheel serves as a reminder of the equal importance held by all Medicine Wheel teachings.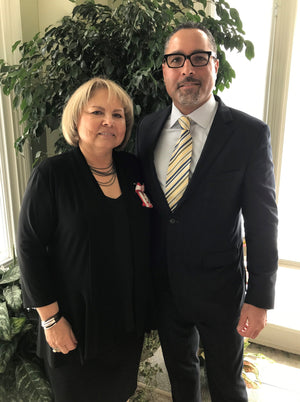 Indigenous Owned
Dr. Marie Delorme
is CEO of The Imagination Group of Companies and serves on numerous boards across Canada. She is a member of the National Indigenous Economic Development Board, an advisory body to the federal government and the Indigenous Advisory Council of the Canadian National Railway Company. Dr. Delorme is a Member of the Order of Canada and has received numerous awards including the Indspire Award in Business and Commerce. She was named by WXN one of Canada's 100 Most Powerful Women.
Colby Delorme
Colby Delorme has been a Métis entrepreneur since the age of 18 and joined the Imagination Group of Companies in 2002. Staying true to his entrepreneurial roots, in 2016 he launched the Ceremonial Tobacco line. As President of Imagination, he has been instrumental in building the company into the dynamic operation it has become today. His latest venture has been co-founding Influence Mentoring Society, a non-profit focused on creating mentoring relationships for post-secondary Indigenous students. Having served on numerous boards and an active volunteer, Colby holds an Institute of Corporate Directors Designation from the Rotman School of Management and is passionate about creating new and sustainable opportunities in business and making a positive impact for the Indigenous community.